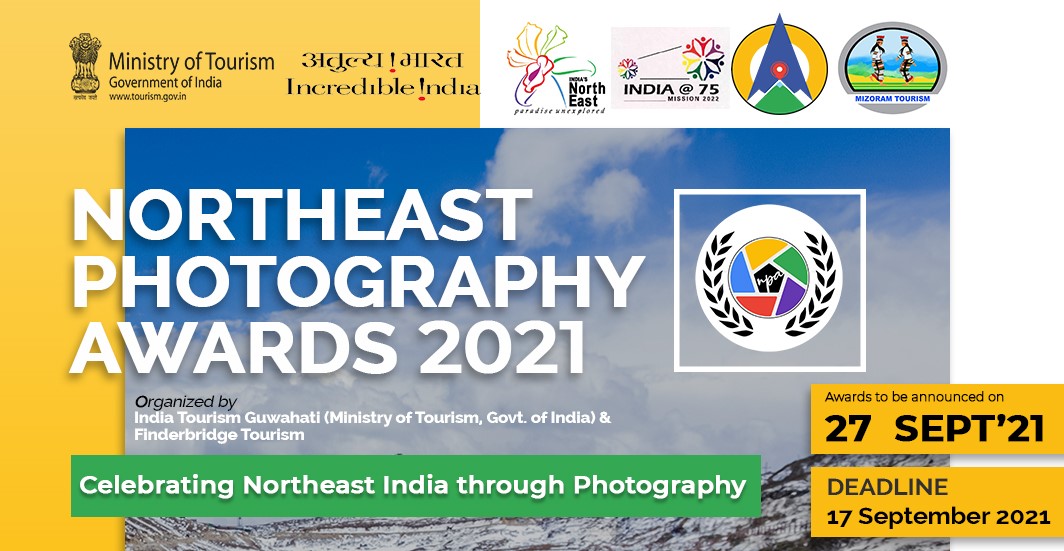 Northeast Photography Award 2021 is an Initiative launched with the motive of providing a platform to the upcoming prodigious photographers of tomorrow, and to appreciate their work and efforts, showcase their best creative works globally and recognition to their contribution to Northeast Tourism Industry since the beginning. We also aim to acknowledge their talents and appreciate them by promoting them on an international level. This Award program celebrates local, amateurs, professionals photographic talent in the Northeast India region. Our purpose is to raise the level of Northeast India photography Industry worldwide and making an identity of Northeast in the World Photography Map.
Organized by India Tourism Guwahati (Ministry of Tourism, Government of India) and Finderbridge Tourism and Supported by Mizoram Tourism
Misson
TO ACKNOWLEDGE THE BEST PHOTOGRAPHERS FROM NORTHEAST INDIA, CELEBRATE & SHOWCASE THEIR ART, AND TO PROMOTE THE BEAUTY OF NE INDIA THROUGH PHOTOGRAPHY ON A GLOBAL SCALE.
PUBLICATION
In addition, the work all winners will be published in the high-quality, full-color Northeast Photography Award annual digital book.
Photography Award Winner
| Categories | Winners |
| --- | --- |
| Portrait Photography | Jayanta Guha |
| Abstract Photography | Ranit Kumar Dholey |
| Monochrome Photography | Ankur Hazarika |
| Aerial Photography | Nirmalya Roy |
| Food Photography | Panborlang Toi |
| Wildlife Photography | Arkadeep Das |
| Tribal Photography | Alongbar Basumatary |
| Cultural/Festival Photography | Anand Prakash Pande |
| Astrophotography | Samrat Ghosh |
| Landscape Photography | Wann Majaw |
| Macrophotography | Bidyut Kalita |
| Photographer of Assam | Cintu Thakuria |
| Photographer of Meghalaya | Chinamrak W Momin |
| Photographer of Arunachal | Moge Riba |
| Photographer of Mizoram | Lalmawizuala |
| Photographer of Sikkim | Avishek Khatiwara |
| Photographer of Manipur | Thiyam Alexy Singh |
| Photographer of Nagaland | Changsonla Chang |
| Photographer of Tripura | Abhijit Shil |
| Photographer of the Year | Moge Riba |
| Photographer of NE Award | Arkadeep Das |
| FinderBridge Special Mention | Momocha Irengbam Singh |
| Jury special mention | Rajballav Sarma |
| Jury special mention | Arijit Adhikari |